Thank you for another successful Tolland Antiques Show.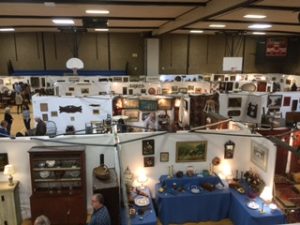 Sunday, April 23
9 a.m. to 4 p.m.
Tolland Middle School
Admission: $9
The show's proceeds support the Tolland Historical Society's three historic museums and its program for the public and Tolland schoolchildren.
Mary-Pat Soucy is the new show director, and Dr. Sharron Laplante is the deputy director.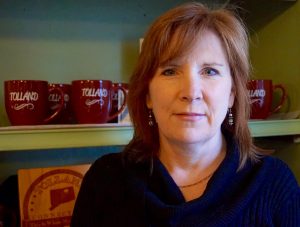 Show Director Mary-Pat Soucy
*****
In 2016, we had our first spring show. After 49 years of launching the antiques show season, we decided it was time to trade snowflakes for raindrops. What a treat as the weekend was perfect for dealer set-up on Saturday and the Sunday show!
*****
Thanks to all.
The 50th Golden Anniversary Show was a great success. Thanks to the many volunteers, generous vendors and our loyal dealers who collectively make the show the wonderful experience it is.
I have been lucky to have been a part of this wonderful organization for the past 25 years. The experience of working with the talent that is the Tolland Antiques Show is an experience that I will always cherish. But it's time to allow new energy take the reins and move the show forward. I have asked 2 wonderfully talented women to take over as Co-Directors. Mary-Pat Soucy and Sharron Laplante will lead the show in new and spirited directions.
Thanks for the memories!
Kathy Bach, Director
*****
The 50th Golden Anniversary
Tolland Antiques Show
Sunday, April 10, 2016
9 a.m. to 4 p.m.
Drawings for gift certificates to be used at the show
will take place between 11 and noon.
Luncheon Menu Available
Free Parking
Tolland Middle School
A Benefit for the Tolland Historical Society, this distinguished show features 18th and 19th century American furniture, accessories, textiles, rugs, prints, folk art, paintings, red ware and early iron. Many items are of museum quality. Over sixty-five dealers from throughout New England, New York, New Jersey, Pennsylvania, and Maryland make this show one of the premier events dealing in early Americana.
Proceeds from the show support the Old Tolland County Courthouse, the Old Tolland County Jail & Museum, and the Daniel Benton Homestead. Proceeds also support the many programs that the society sponsors in the community and curriculum related programs in the schools.
Visit our website at: www.tollandhistorical.org