Author Charles Monagan to Speak Sept. 17 about his book, "Connecticut Icons"
The Tolland Historical Society will host a free talk Sunday, Sept. 17 at 1 p.m. by author Charles Monagan about his recently re-released book "Connecticut Icons: Classic Symbols of the Nutmeg State."
The talk will take place at the Old Tolland County Jail and Museum at 52 Tolland Green.
Monagan, who was the editor of "Connecticut" magazine from 1989 to 2013, says the book grew out of a last-page column he wrote for the magazine from 2001 to 2005. It includes short profiles of 50 places, natural features, buildings, food and other items that seemed to him to be especially "Connecticut" and that everyone thinks they know about but probably don't.
Monagan has been a writer and editor for more than 45 years. He's the author of several books, including "The Neurotic's Handbook," "The Reluctant Naturalist" and "How to Get a Monkey into Harvard." He wrote the book and lyrics for a musical, "Mad Bomber," in 2011.
In 2016, he spoke at the jail museum about "Carrie Welton,'' his fictionalized account of a Waterbury native's adventurous life.
Learn How to Make Ice Cream the Old-Fashioned Way on Aug. 27The public is invited to learn how to make ice cream the old-fashioned way on Sunday, Aug. 27 from 1 p.m. to 4 p.m. at the Old Tolland County Jail and Museum at 52 Tolland Green in Tolland.
The event and admission are free, but donations are always welcome.
A Stroll Down Tolland Green…Then and Now
The Old Tolland County Court House Museum will be holding a photo exhibit of the homes in the Tolland Historic District on Sept. 10, 17 and 24.
There are more than 50 homes on the Tolland Green that are on the National Register of Historic Places, including some that are over 250 years old.
The courtroom walls will come alive with pictures of buildings on the Green from the 1700s and 1800s, compared to the present day.
Visitors will see how the Green has evolved and yet stayed the same. Come learn about the history of the houses, the families that lived there, the shops, taverns and other businesses in the town center.
The exhibit will run on Sundays in September, starting on Sept. 10, from 1 p.m. to 4 p.m. at the Old Tolland County Court House Museum at 53 Tolland Green.
Admission is free, donations are always welcomed.
Tickets are on sale for Arlyne's Gold
The Tolland Historical Society is inviting members of the public to buy tickets for "Arlyne's Gold," its 50th Anniversary Masquerade Ball, on Saturday, June 3 at 6 p.m.
The celebration honors the late Arlyne Garrity, the first president of the society when it was founded in 1966.
Cocktails will be served from 6 p.m. to 7 p.m. in the secret garden at the Hicks-Stearns Museum on the Tolland Green. Dinner, catered by Tolland's own Country Caterers, begins at 7 p.m., followed by the big band music of Kats N'Jammers until midnight.
Seating is limited, so purchase your tickets as soon as possible. Member seats are $50 per person, and non-member seats are $65, which includes a one-year membership to the society.
Tickets can be purchased at the Tolland Red and White store at 46 Tolland Green or by contacting gala chairperson Celeste Senechal at celestesene5@gmail.com.
Dress is formal. This will be a night to remember with specials guests, prizes for fashion and historical characters and games. Masks are suggested and will be available for a donation to the Hicks-Stearns Museum, which is donating the use of its property for the event.
Portraits in Silhouettes Fundraiser
Parents and grandparents can preserve a memory with a hand-cut silhouette of their children and grandchildren on Saturday, June 24 when Silhouette artist Jean Comerford will be on hand at the Old Tolland Court House Museum.
The event is a fundraiser for the Tolland Historical Society, with 20% of the proceeds going to support the Society.
Each silhouette is cut freehand with scissors as the children aged six months and up sit for the portrait.
Portrait sessions, which last 10 minutes, are by appointment only. Visit signupgenious.com and search for nkjtr@sbcglobal.net to make an appointment. Adults can also pose for a silhouette.
A single silhouette is $35 and a duplicate is $15. A 5×7 frame for one silhouette is $35, and an 8×10 frame for two to three silhouettes is $45. All silhouettes will be mounted on acid-free museum board.
Jean Comerford and her daughter Marcella have been creating beautiful portraits in this rare art form for 25 years.
Only cash or checks will be accepted.
The event is sponsored by the Tolland Historical Society. For more information, call 860-870-9599.
The Tolland Historical Society is once again sponsoring an internship for students in grades 7 through 12 this summer at the Old Tolland County Court House Museum and the Old Tolland County Jail and Museum.
Interested students are invited to an open house and tour on Saturday, May 20 at 10 a.m. behind the jail museum on the Tolland Green.
This is a valuable community service opportunity. Students will learn all aspects of the workings of a museum from behind the scenes to interaction with the public.
Interns will:
❖ Design displays & exhibits
❖ Catalogue museum collections
❖ Give tours
❖ Create activities for Sunday events for the public
❖ Participate in historic demonstrations
❖ Preserve historical artifacts
❖ Network with visitors
The interns will earn community service hours and will receive a reference letter.
For more information, contact Jail Museum Director Kathy Bach at familybach@aol.com or 860-872-7716 or Court House Museum Director Ni-Ni Reinard at nkjtr@sbcglobal.net or 860-212-3650.
Events planned for 2017 at the Daniel Benton Homestead
By Gail Usher
Museum Director
Some exciting events are being planned for the 2017 season at the Benton Homestead:
May 20 and 21: Native American and Colonial Encampment at the Daniel Benton Homestead. For our first public event of the season, the museum will welcome Native American and English colonial re-enactors who portray life in 17th century New England. The talented interpreters in period clothing will focus on how colonists interacted with the Native populations. Throughout the two days, visitors can speak with skilled artisans who demonstrate daily life including pottery, spinning, cooking, working animal skins, lace making, military drills and care of weapons, basket making and herbal medicines. This is a unique opportunity to experience a little bit of New England as it was 300 years ago in an authentic setting. This is a family-friendly event that only happens once a year.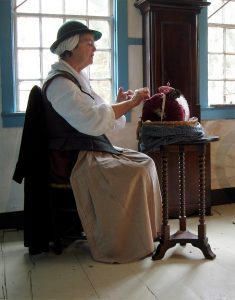 Saturday, May 20, 10 a.m. to 5 p.m.
Sunday, May 21, 10 a.m. to 4 p.m.
Admission is free, but donations are appreciated.
Rope the Bed: We received a wonderful 18th century rope bed as a donation. Later this year, we will be installing the bed in the parlor. Roping a bed is a lost skill and that day, we will be demonstrating the technique. Visitors will be invited to help with the roping and with stuffing the straw tick and feather bed. The date will be announced.
Call for Volunteers:
Kitchen Garden: Spring has sprung and it will soon be time to plant the Benton kitchen garden. We need volunteers to tackle the spring clean-up and prepare the garden. Whether you can give just an hour or are a passionate gardener with time to dedicate to our garden, we can use your help.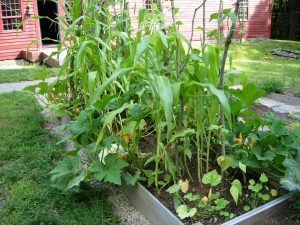 Guides: The museum will open in May and we need volunteers to welcome visitors on Sunday afternoons. Guiding is easy and hours are minimal, just 12:30 p.m. to 4 p.m., usually once every few weeks. Training will be provided.
Please contact Museum Director Gail Usher via email at thru18eyes@aol.com. Thank you!