A CORRECTION
This picture, previously identified as Captain Benjamin Turner Loomis, was obtained from a website, and the identification now appears to be in error.
The real Loomis is this man, pictured on a carte de visite recently obtained by the New England Civil War Museum. The new photo bears Loomis name.  It also bears a closer resemblance to the oil portrait of Loomis in later life that is in the collection of the Tolland Historical Society.
 It also better typifies the ambitious young man on his
way up that Loomis appears to have been as described
in the story below.
My thanks to the Civil War Museum in Rockville for use of this photograph.
Since I have developed a fondness for the young man in the first picture, he may appear again in the future as an anonymous Civil War volunteer, but it is unlikely that he is one of ours.    Barbara Cook
"You didn't see a man or a boy – they all went to war"
This title is a quote from an oral history of Mary Triska Waldo, the daughter-in-law of Martha Hale Waldo. Martha was the daughter of Baker Hale, who joined Company K of the 22nd Regiment along with many of his Tolland neighbors and friends. This is what Mary said Martha had often told her about the war.
"When her father went to war, the Civil War, she (Martha) was about fourteen, and the oldest. And the kids and the mother did all the farm work. Made the hay and planted the garden. They were all farmers who went to war.
"And she said that they (men and boys) laid down their hoes or whatever and took up arms. Everybody had a gun, because they used to hunt for food. And they would march along, and at each house they would pick up these men. The saddest thing.
"And she told me that her (own) mother was very very upset at that time, but she said 'being that I was the oldest, I had to hold the children down, the others. Those were bad times. Well, all times were bad at war.
"She said 'You didn't see a man or a boy, they all went to war.'"
Baker Hale, Martha Waldo's father, was a member of Company K, 22nd Regiment, which included 40 Tolland men–more than any other Company. Read more about Co. K in the sections starting with "Captain Benjamin Turner Loomis: 22nd Regiment, Co. K.
The War Begins
The battle for Fort Sumter on April 12 and 13 in 1861 was the beginning of the American Civil War. Seven southern states had seceded from the Union, and South Carolina forces had already seized all Federal property in the Charleston area except for the fort, which controlled the entrance to Charleston Harbor. A merchant ship attempting to supply the fort had been fired upon and forced to turn back in January.
New President Abraham Lincoln had notified South Carolina Governor Frances W. Pickens that he was sending in supply ships, and had received an ultimatum by the newly formed Confederate States of America to evacuate the fort immediately. The ultimatum was declined and the Confederate forces fired upon the fort, driving out the greatly outnumbered defenders.
This was the beginning of the war that would last for five long and bloody years, and take the greatest toll in American deaths and injuries of any war fought in our history. It was a war that would see many Tolland men fight and some would lose their lives or their health. During these five years, the Tolland Historical Society seeks to commemorate the service of many of these volunteers, and honor them all, and their families, by telling their stories.
Edward Marvin and the Ladies of Tolland County

Outfit the Volunteers
Edwin Marvin was born in Tolland in 1833 to Ira K. Marvin, the wagon maker, and his wife Julia Young Marvin. Ira Marvin's home and wagon business was on the Rockville Road, now called Tolland Stage Road, a few hundred feet from the green, and about where the Preschool of the Arts now stands. Older residents will remember it as the Chorches farm.
Young Edwin attended the Center School and then was sent to the Connecticut Literary Institute. There was no high school at that time, in Tolland or Rockville, and local education ended in 6th grade. Marvin worked as a boy at the hotel owned by Elijah Smith at (59) Tolland Green.
Returning home, he was attracted to the study of law and entered the law office of Loren P. Waldo, (31) Tolland Green, where so many other young men had prepared for the legal profession. He was admitted to the bar in 1858. Tolland had a sufficient number of lawyers, so he began his practice in Rockville.
On the 15th of April, a Presidential Proclamation called for 75,000 volunteers to put down the rebellion. The people of the northern states enthusiastically approved, and vied to provide volunteers. Citizens of northern Tolland County towns spontaneously gathered in Rockville on the evening of the 19th. Many immediately signed on for a three-month enlistment, as Company 1, 45th Regiment Connecticut Volunteers. Only three companies were ultimately accepted from the State however; Company 1 was not among them and was disbanded.
A considerable number, though, then volunteered for a three-year enlistment, and their ranks were soon joined by a number sufficient to form a company.
The citizens immediately set out to fully uniform their new company, appointing a committee of three to organize the effort. Edwin Marvin, who had been one of the first to enlist, devoted his entire time and attention to the cause, and the ladies of the churches in Rockville, rural Vernon and Tolland, along with Rockville tailors C. T. Ward and M. Koffman, managed to uniform the entire company in suits and overcoats in about three weeks.
The company was ready by the 20th of May, when after a ceremony, prayers, and the presentation of a silk flag, also provided by the ladies, departed for Hartford by stage.
1st Regiment of Colt' Revolving Rifles Never Left Hartford
Soon after arrival the regiment was renamed for Samuel Colt, the Hartford arms manufacturer. Colt had presented an offer to Governor Buckingham to provide revolving rifles and training for a regiment to bear his name. Colt would be appointed Colonel.
The standard of height for enlisting was 5'5 ½ ", but Colt's Regiment had even adopted an extra standard of height. Many companies found that from a quarter to half of their enlistees did not meet the Colt height requirement of 5'7", and their officers were forced to do more recruiting in order to fill their ranks. Half the local company was rejected and sent home, but the company soon filled its quota again with men of the desired height, about 40 of them being from the Rockville area. The standard of height, as Marvin later observed, was for appearances sake, and actually had no bearing at all on the ability of a soldier to perform his duty. It was perhaps the first indication of what was to come.
They were now "The First Regiment of Colt's Revolving Rifles, Company F" under Captain Edward P. Allen or Rockville. Edwin Marvin was the Lieutenant. They were quartered in Hartford along with several other companies in an old freight depot. Five companies, about 450 men, sleeping on the floor in one room, closely spaced and sometimes, as Marvin described "about to suffocation."
Delays occurred, no rifles were assigned and no training was forthcoming. "Packed" as Marvin observed, "as closely as herrings in boxes," tempers began to fray, and frequent altercations occurred. Dissatisfaction was such that the officers of Company C contemplated an expedition to the Governor to obtain his permission to withdraw from Colt's Regiment and enlist elsewhere.
To prevent such wholesale desertion, officers of all companies except Company C were called to the business office of the arms company and supplied with Colt's revolving pistols for their personal use, and an ample supply of ball cartridges for an extensive battle, and ordered to have their companies ready to turn out at any time. But Col. Colt requested that the volunteers become part of the regular army, which they stood firmly against, and on June 20 Colt's First Regiment of Revolving Rifles was formally disbanded.
The men then re-enlisted in the 5th Regiment of Connecticut Volunteer Infantry. Marvin became a 1st Lieutenant, and later Captain.
They now marched off to war without the revolving rifles, and indeed without any training whatsoever in the use of firearms, and were led into battle, Marvin says, "as lambs to the shambles, standing in their places to be shot down, holding in their hands weapons of offense concerning the effective use of which (many) knew as little as they would have done of the proper use of the camera."
There will be more about the 5th Regiment, Captain Marvin, and other Tolland men in its ranks.
A Prisoner Too Close to the "Dead Line"
James Drake grew up in the Skungamaug District, enlisted in Somers in July of 1862 when he was about 17 years old and was mustered into Co. A 16th Regiment as a private on August 24. The Regiment participated in battles at Antietam and Fredericksburg. They were then deployed to North Carolina, where in 1864 Drake was taken prisoner along with most of his regiment and some others in the battle of Plymouth. The Union forces were assaulted there by a rebel force about 10 times their number. They were able to afflict severe losses on their attackers but were ultimately overcome.
Among the prisoners were two companies of loyal North Carolina troops, and between 300 and 400 black soldiers whom the Confederates immediately executed.
Drake was taken to a prison camp in South Carolina. In order to prevent escapes, the Confederates had placed stakes a few feet from the outer walls of the camp and strung a line between them, which the prisoners were forbidden to cross. Any Yankee prisoner crossing the "dead line" as they named it could be shot without warning. Since guards were rewarded with furlough time for preventing escapes, prisoners were likely to be shot for being anywhere in the vicinity of the line, whether attempting escape or not. This became an almost daily occurrence, and became the fate of the unfortunate Drake on December 4, 1864. He was apparently not attempting an escape. He was buried along with his brother, Private Henry Drake, in the East Yard.
Captain Benjamin Turner Loomis
22nd Regiment, Co. K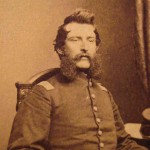 Benjamin Turner Loomis was born in the toll house on the Tolland–Mansfield Turnpike (Rt. 195, about where the Mobil Station is today) where his father was the toll keeper. He finished his education at 16, joined his father as a painter, taught in local schools, and then worked in the silver trades in Meriden.
He recruited a company of 23 men from Tolland and about an equal number from other area towns, which became Company K, 22nd Regiment Connecticut Volunteers. They were sent to the Washington, D.C. area, where they spent their time largely on guard duty. While they saw little action and no battle casualties, they lived day after day in expectation of attack. Many suffered serious illness, some died.
After the war, Loomis went on to become a very wealth man. Learn more about Loomis fascinating life and career, as well as about other Tolland volunteers, on Thursday, October 18, at 7:00 p.m., at a special program at the Court House. Mark Depathy will talk about the tragedy and scandal that Loomis would face, as well as about Alden B. Crandall, Thomas Wilkie, Samuel Webster and other local men. Loomis' Civil War sword will be on display, along with his oil portrait and other possessions, including the invention that made his fortune.
Some Skungamaug and Sugar Hill District Men of Company K and Others
There were 43 Tolland men in the 22nd along with Captain Ben Loomis. Martha Hale Waldo's father, Baker Hale, was one, and the recruitment of this company is probably what she described when she said "they lay down their hoes or whatever and took up arms…and they would march along and at each house they would pick up these men." The Hales lived in the village of Skungamaug, and just about every eligible man in Skungamaug who had not already done so joined up with Loomis in August and September of 1862. Here are the stories of some of those men and those from other units, all buried in the Skungamaug Cemetery. Most of them lived in the Skungamaug and Sugar Hill and Buff Cap school districts in the northeast corner of the town, and many had attended those district schools.
Private Baker Hale was about 35 years old and had five, or possibly six, children, of whom Martha, age 13 or 14, was the eldest. As she says, it was her job to look out for the little ones, and probably pitch in along with her 12 year old sister with the housework, cook, carry water and do laundry, while mother Rosetta tried to keep the farm together. Baker Hale, born in Warwick Massachusetts, was described as 5'7" tall, with light complexion, blue eyes and sandy-colored hair. He returned to the farm after his time in the service in poor health, and died of tuberculosis soon after. Many men returned only to die young from disease or injuries encountered during the war.  Hale was 37.
Hale's brother-in-law, Private Henry Drake, had previously joined Co. F, 8th Regiment, along with two other men from the eastern part of town, Thomas Pierson and Samuel Main, had also joined in 1861. They were at the siege of Ft. Macon. The worst, for that company, was the sickness, primarily Pneumonia, typhoid fever and dysentery. Pierson died of pneumonia in March of 1862 and Drake was sent home with a disability discharge in April. Samuel Main was killed in May, and is buried where he died.  Brothers Charles and George Upton were also part of the Company, and both reenlisted in 1863  George was wounded at Cold Harbor and died of his injuries, Charles was the only one mustered out at the end of his service, in December 1865. 
Henry Drake, after recuperating at home for a short time, re-enlisted in August in Company K. He died at 58.
He and Hale are buried in Skungamaug alongside Henry's brother, James Drake, the 18 year old shot by a Confederate prison guard for allegedly approaching the "dead line." James was a farm laborer in the household of 81 year old Daniel Grover in the census of 1860. Many of the young men who worked at farm labor lived with their employers.
Also in Company K, Private Levi Garry lived on what is now called Garry Road. Corporal Elisha Kendall, about 32, was single and lived with his parents on present Cook Road, north of the Sugar Hill District School. After he was mustered out, he inherited the farm, but died rather young. Private Adino Brooks was the 28 year old son of Asa Brooks, who had a saw mill at the pond on present Johnson Road in the Sugar Hill District. He received a surgeon's certificate of disability in March of 1863, having served 7 months of his 9 month enlistment, and lived in Rockville working as a glazier. He later ran his father's mill, and farmed in Tolland. His brother, Charles U. Brooks, was a member of Co. H, 18th Regiment.
Private Benjamin Root, also of Co. K at the age of 24, was born in Hebron, and recently married to Emily Brooks, whose two brothers, Adino and Charles, both served. He later lived near his brothers-in-law on present Cook Road, on property formerly owned by the Elisha Kendall's father. He was a carpenter and farmer and died of the effects of gastritis and peritonitis at the age of 55.
Lieutenant Lurandas Johnson was 35, and also grew up in the Sugar Hill District near Kendall and the Brooks brothers. Married to a Mansfield woman at 29, He was probably not living in Tolland when he enlisted. He served in a brigade with the 40th Massachusetts, 11th Rhode Island and 141st New York in January, 1863, was detached as chief of the brigade ambulance corps, and was mustered out with the rest of the 22nd Regiment on July 2, 1863 at Hartford.
Among those not in Co K, Private Henry Hartlon was the first to volunteer, in May 1861. Although he did not grow up here, he married a girl who lived in town. He joined Battery D, CT Heavy Artillery, transferring to the Navy in 1864. He came home in 1866 and went to work as a carpenter. After five years of war he died when he fell off a building he was working on in 1880.
Peter Worth, who was born in Montville, may have been of Native American ancestry. Not much is known about him, since any trace of his military record has disappeared. He was probably a regular army soldier, and he died in the service, of chronic diarrhea.
Private Edwin C. Sparrow, Battery L, First Connecticut Heavy Artillery, enlisted on June 23, 1863. He grew up on Old Stafford Road in the old house after Susan Drive. He died from the effects of Bright's disease, an affliction of the kidneys.
Private Frederick Miller enlisted July 29, 1862 in Co. C of the 18th Connecticut Volunteer Infantry. He was captured by the enemy at the June 15, 1863 Battle of Winchester. He was mustered out June 27, 1865 at Harper's Ferry. Born in Germany, he married a Skungamaug girl, Emeline Webster, and lived at the corner of present Tolland Stage Road and Bates Road. He died at 87 of the effects of arteriosclerosis.
And finally, Corporal Sylvester Bugbee, whose elaborate monument apparently does not mark the final resting place of his remains. Bugbee grew up in the house next to the cemetery, and his father was a blacksmith there. He enlisted in Bozrah, where perhaps he had gone for employment, since he was 18 years old and unmarried. And perhaps his familiarity with horses and blacksmithing made him want to join a cavalry unit. He became a private in Company A, of the 1st Connecticut Cavalry on November 11, 1861, and while his monument states that he was a sergeant, records show him receiving the rank of corporal on February 1, 1864.
During Wilson's raid south and west of Petersburg, Virginia to cut the south-side railroad, the rebels counterattacked and turned the retreat into a rout. Cut off in its retreat, the Union force broke through the Confederate lines and headed toward Reams Station. Heavily pressed, the raiders made a stand and repulsed two night attacks by enemy infantry. They then began their withdrawal, with the 1st Connecticut and 1st Vermont being the last regiments covering the retreat. During the engagement the 1st Regiment lost three killed, seven wounded, and 50 taken prisoner. Bugbee was one of the dead. He died June 29, 1864 at the age of 21. It appears that his body was never recovered. The Grand Army of the Republic (G.A.R.) Post in Tolland was named for him, an honor usually reserved for a fallen hero.
Civil War Commemoration Program
On June 11, 2011, Barbara Cook, the Society's Archivist and Court House Museum Director, presented a Civil War Commemoration Program at East Cemetery in Skungamung, Tolland. Thescript for the program written and directed by Barbara Cook  based on research by Mark Depathy of Sons of Union Veterans, and Barbara Cook. Click on picture to activate slideshow.
Also appearing were Ed Hansen as Private Henry Hartlon, Tony Liebl as 2nd Lieutenant Lurandas Johnson, Ron Lasala as Private Benjamin Root.
Click on link to view video of the Civil War Cemetery Enactment