The Homestead Season
Daniel Benton Homestead Museum at 154 Metcalf Road in Tolland will reopen from 1 p.m. to 4 p.m. on Sundays, beginning on June 4, 2023.
Tours will be held at 1 p.m., 2 p.m. and 3 p.m., with a maximum of four people allowed per tour. Visitors must register for a tour ahead of time, by emailing danielbentonmuseum@gmail.com to request a date and time for your tour.
Visitors to the Benton Homestead will be required to wear masks and practice social distancing. Only four people will be allowed inside the museum at a time, and restrooms are not available.
The museum opening is always subject to change if COVID-19 numbers rise again in Connecticut.
Admission to the museum is free, but donations are always appreciated. They can be made at the museum, through the website or by sending a check to the Tolland Historical Society, P.O. Box 107, Tolland, CT 06084.
About the Museum
In 1720, Daniel Benton was "made an inhabitant" of Tolland. He was 24 years old. This is similar to becoming a freeman. Inhabitants were typically allowed to attend town meetings, vote on town business and in elections, and become town officials. They were given "stinting rights" on common land. This meant a defined, limited right to graze a specified number of animals on a specified portion of common land. A man was granted inhabitant status based upon the rateable value of his estate and demonstration of good character. This last hinged on church membership. Prospective inhabitants were typically nominated by an existing inhabitant and then chosen by the serving townsmen/selectors/electors. Daniel most likely owned land, probably some stock, may have already practiced a trade, and was upwardly mobile. It also indicates that he knew the right people in town.
While the exact details of Daniel becoming an inhabitant are not recorded, we do know some facts that help us understand his life at this time. He was born in 1696 in Hartford to Samuel and Sarah Pomeroy Benton. At the age of 17, he accompanied his father to join men from Hartford and Windsor in establishing Tolland. On February 20, 1719, Samuel Benton gave his son forty acres of land in Tolland "In consideration of love and of good will…" This is the land on which the house is built on what is now Metcalf Road. Within the year, two additional tracts of land were conveyed to Daniel. He acquired two additional tracts of seventy and twenty-one acres on July 25, 1721. One final event marked these years for Daniel. On January 3, 1721/22 he married Mary Skinner.
Please follow this post over the next two years as we explore the lives of Daniel and Mary Skinner Benton in Tolland and commemorate their three hundredth year anniversaries.
About the Daniel Benton Homestead Museum:
Six generations of the Benton family lived here and farmed the land. Daniel Benton's sons served in the French and Indian War; five of his grandsons answered the Lexington Alarm and fought in the Revolutionary War. Purchased from the family in 1932 by Florrie Bishop Bowering, a radio personality and dietician at the University of Connecticut, it was occupied by her until her death in 1968. The house came into the possession of the Tolland Historical Society through the generosity of the next owners, Charles B. Goodstein and William A Shocket, in 1969, and was opened as a museum the following year.
Although minor changes were made to the house over the years, it remains much the same as it was in Daniel Benton's time. A full cape with an ell, it's exterior is repainted in the original colors.
The hall, reflecting the earliest construction, boasts a beautifully paneled fireplace wall, stained and grained to simulate walnut, as is the wide-board feather-edged sheathing on the other three walls. Paneling in the parlor has been repainted in the o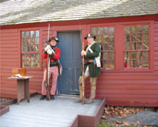 riginal light Prussian blue. Repairs to both chimneys have returned the five fireplaces to useable condition. Work on the center chimney exposed the original walk-in fireplace with rear bake oven in the kitchen, which has been restored. The cellar, which has another largecooking fireplace, was used to house Hessian and English prisoners for eighteen months during the Revolutionary War.
The Daniel Benton Homestead Museum tells the story of 18th century Tolland through the lives of the first three generations of Bentons to live in it.
For more information, call Director Gail Usher at 860-974-1875.