Books and gifts of local and wider interest published by the Society and others. Items available at the Jail Museum gift shop and The Tolland Red and White store at 46 Tolland Green. Contact Society President Kathy Bach at kwbach@gmail.com for additional information. Sorry, no credit cards.
Forever, Side By Side

by John J. Cuffe

Every visitor to the Daniel Benton Homestead

Museum, has heard the legend of Elisha Benton
and Jemima Barrows. Now John J. Cuffe has
brought Elisha and Jemima to life in this engaging
novel, set against the events of the Revolutionary War.
Written in the first person, as told by
Elisha Benton, it seems to give an authentic
voice to the lives and times of this young couple.
$20.00
The Tolland Transformation

By Marshall A. Atwater
A new history of Tolland by resident Marshall A. Atwater has been published by the Tolland Historical Society . "The Tolland Transformation: 1940-2014," picks up where previous histories of the town left off. Atwater traces the societal and technological changes of the past 75 years that increased the town's population past 15,000 while Tolland retained its rural characteristics.
$20.00
Tolland Historical Society Tote Bag
Roomy, canvas tote with outside pocket has many uses. Displaying the historical society logo and the years "1715-2015" in honor of the upcoming 300th anniversary. Bags are available at The Homestead and the Old Tolland Jail Museum
$20.00 SORRY SOLD OUT!
Tolland: A Connecticut Town

By William P. Mc Dermott
A new book about the town's first century takes us from the settlers who struggled to establish homes and farms and provide the necessities of community life to the earliest years of Tolland as county seat. His exhaustive research has provided a great deal of previously unpublished material. Published by Kerleen Press.
$25.00
The Early History of Tolland
By Loren P. Waldo
Reprinting of an old book originally published in 1861, which was delivered as an address to the Tolland County Historical Society in 1861. Includes settlement, early town and county government, churches, military history and development of local institutions. Index added by Historical Society lists 489 early family names. Available only at the Old Jail Museum and Old Tolland County Courthouse.
$25.00
Tolland: An Old Post Road Town

By Harold Weigold
Originally published by Clinton Press of Tolland for Tolland Historical Society 1965. The first of the Society's books was compiled by Harold Weigold to bring Tolland's history into the 20th Century. Repeats and develops some of Waldo's themes. Contains pictures of churches, schools, the Green and other landmarks.
$20.00
Answering the Call: A 75th Anniversary History
of the Tolland Fire Department By Richard N. Symonds, Jr.
A comprehensive history of fire, rescue and emergency medical services as the department progressed from one hand-drawn hose cart to today's four fire stations and training center, 13 response and eight support vehicles. Published 2008 by Tolland Fire Department/Gulemo Printing.
Hard cover $45.00
Soft Cover $20.00
Around and About the Tolland Green

By Christine Gray
A tour of the Green, with old and new pictures of the houses and buildings you encounter along the way and a bit of history about each of them. An ideal walking tour guide. Published 2002 by Tolland Historical Society.
$15.00
Daniel Benton Homestead

By
Gail

W.

White

and Peter C. Palmer

Tolland's oldest house and the family that lived there for 112 years. The Homestead is now a society museum. Published 1999, Tolland Historical Society
$6.00
Dear Wife and Children




Letters of Dr. Jeduthan Eaton

, Edited by Barbara Palmer
Dr. Jeduthan Eaton left Tolland to mine gold California. His letters home from 1850 to 1853 were carefully preserved by his family in a small tole box. Edited and explanatory material added by former town historian Barbara F. Palmer. Published 2001 by Tolland Historical Society
$15.00
Growing Up In Tolland Circa

1950 to 1967
By Peter Palmer
A local attorney's story of childhood and adolescence on a Tolland farm in the mid 20th Century, with many pictures. Published 2004 by Tolland Historical Society
$12.00
Life and Times of Ariel Benton

By Ariel Benton, edited by Barbara Cook
Sketches by Linda Jaye Tofolosky
Ariel Benton left Tolland for Ohio in the early 1800s to search for a farm and a better life for his extended family. Incites into the religious upheaval of the times. Written by Benton in his 80s, edited for reprinting by Barbara Cook. Published 1997 by Tolland Historical Society
$6.00
Life in Tolland Village in the 1880s

By Edgar Marvin Hawkins. edited by Barbara Cook. Photographs prepared and edited by Peter Palmer
Edgar Marvin Hawkins' tales of his childhood paint a very real picture of a boy's life here in the 1880s. Possessed of an excellent memory for details, Hawkins takes us through the blacksmith shop, the general store, and other boyhood haunts and introduces us to the people who lived here.
$10.00
Ponds, Dams and Mill Sites in Tolland, Connecticut

By Richard N. Symonds, Jr.
Dick Symonds spent hundreds of hours searching for ponds and old pond sites, finding an amazing total of 240, and carefully recording the location, size and empoundment of each original pond, including the known history of its uses. A valuable resource as well as fascinating reading.
Hard cover $45.00
Soft cover $20.00
The Church on Tolland Green

By Marshall A. Atwater
Published 2007 by United Congregational Church of Tolland Tolland History of the Congregational Church from the founding of the town, when town and church were one, through 2007. Many pictures.
$15.00
Tolland in Cartoons

by Ivan Robinson, Text by Joyce Robinson
Cartoons of local interest originally published in the Rockville Journal in the 1960s. Published 2001 by Tolland Historical Society
$5.00
Miniature Houses and Ornaments
Due to the vendor being purchased by a second party, not all building and ornaments are available at this time. We hope to find a new source.



The Agard House, 76 Tolland Green, was built in 1883 for
Ransel Agard. It rests on eleven hand- cut granite blocks.
Building $22.00, Ornament $12.00
The Old County Jail and Museum The jail dates to 1856

and was used until 1968. The house replaces the original
County House, a hotel, was built in 1893.
Building $20.00, Ornament $12.00
The Underwood House was built in 1873 by Frank Underwood,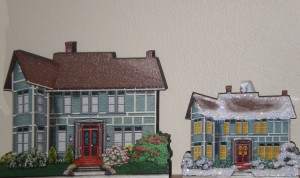 co-owner of the Underwood Belting Company in Tolland. The house had the town's first telephone.
Building $22.00, Ornament $12.00
The Old Tolland County Courthouse was built in 1822,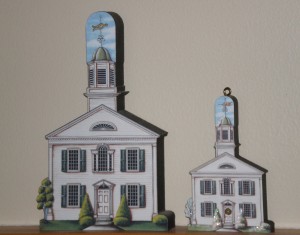 replacing the original 1785 structure. All county courts were
held here until 1890.
Building $20.00, Ornament$12.00
The Daniel Benton Homestead was built around 1720 and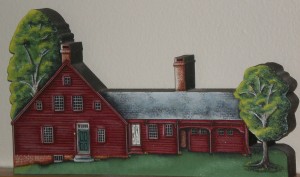 was the home of many Bentons, including four who served in
the Revolutionary War and the ancestors of U.S. Senator
William Benton (1948-1953).
Building $18.00
The Steele House was built in the early 1700's and was deeded by John Steel to Elisha and Sarah Steel in 1765. Elisha was Tolland's first lawyer.
Building $22.00, Ornament $12.00
The United Congregational Church of Tolland was built in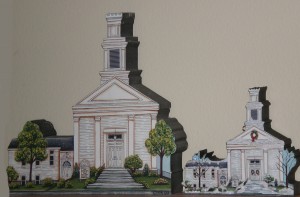 1838 (although the Tolland Church Society was formed in 1722-23).
Building $22.00, Ornament $12.00
Other buildings in the Series are: The current Town Hall and The Tolland Inn, The Homestead, The Hicks Stearns Museum, and the Arts Center (Old Town Hall).