Calling all antiques lovers: be sure to join us Sunday, March 10 for the Tolland Historical Society's largest annual fundraiser – the 53rd annual Tolland Antiques Show!
The show will be held from 9 a.m. to 3 p.m. at the Tolland Middle School at 1 Falcon Way. Admission is $10. Parking is free, and delicious lunch choices will be available from Willington Pizza at modest prices.
With more than 40 dealers from throughout New England, New York and Pennsylvania, the show is one of the premier events in the Northeast dealing in early Americana. The show will feature 18th- and 19th-century American furniture, accessories, textiles, rugs, prints, folk art, paintings, redware and early iron. Many items are of museum quality.
The show is a benefit for the Tolland Historical Society, with proceeds supporting the Old Tolland County Courthouse, the Old Tolland County Jail and Museum and the Daniel Benton Homestead. Proceeds also support the many programs that the society sponsors in the community and its curriculum-related programs in the Tolland school system.
Here's a tentative list of our dealers:
KAREN ALEXANDER ANTIQUES, John Doig, Somers, Conn.; BARBARA ARDIZONE, Salisbury, Conn.; BAYBERRY ANTIQUES, Laura McCarthy, Rockland, Mass.; BLUE DOG ANTIQUES, Judi Stellmach, Stafford Springs, Conn.; HOLLIS BRODRICK, Portsmouth, New Hampshire; CHESTER CWILICHOSKI, New Haven, Conn.; COLETTE DONOVAN, Merrimacport, Mass.; MARTIN J. FERRICK ANTIQUES, Lincolnville, Maine; RAY FOSTER ANTIQUES and FINE ARTS
Machias, Maine; SUSAN GLADDING, Wallkill, New York; GOOSEFARE ANTIQUES and PROMOTIONS, John DeSimone, Saco, Maine; RICHARD LAWRENCE GREENE, Providence, Rhode Island; IVY HILL PRIMITIVES,
Lynne Oppenheimer, Langhorne, Penn.; BILL KELLY, Limington, Maine; RICHARD KENNEY, Dover, New Hampshire; MATT KING,
Marshfield, Mass.; WS KORZICK ANTIQUES, Elma & WS Korzick, New Haven, Conn.; THOMAS R. LONGACRE, Thomas & Beverly Longacre, Marlborough, New Hampshire; GREG LOVELL ANTIQUES, Hyde Park, Mass.; JOSEPH MARTIN
Brownington, Vermont, DAVID MENZIES, Woodbridge, Conn.; CHARLES MUENCHINGER, Windham, Conn.; NEW ENGLAND HOME ANTIQUES, Bruce Henley, Wethersfield, Conn.; OLD BEAUTIFUL ANTIQUES & ART, David Perrelli, Clinton, Conn.; DANIEL & KAREN OLSON, Newburgh, New York; RANDI ONA EARLY AMERICAN ANTIQUES, Wayne, New Jersey; PALISADES TRADING CO.
Tom Landers, Windsor, Conn.; PANTRY BOX ANTIQUES, Charles M. Guinipero, Stafford Springs, Conn.; PATINA ART & ANTIQUES, Glenn Allard, Roxbury, Conn.; SHARON PLATT AMERICAN ANTIQUES, Portsmouth, New Hampshire; DERIK D. PULITO, Kensington, Conn.; QUIET CORNER ANTIQUES, Michael Rouillard, Sterling, Conn.; DENNIS RALEIGH ANTIQUES, Wiscasset, Maine; MARILYN & RON SALAND ANTIQUES, Scarsdale, New York; SASHA'S ANTIQUES, Kathy & Paul Steinberg, Orange, Conn.; PHYLLIS SOMMER, Searsport, Maine, STEPHEN-DOUGLAS ANTIQUES, Stephen Corrigan & Douglas Jackman, Rockingham, Vermont; STONE BLOCK ANTIQUES,
Greg Hamilton, Vergennes, Vermont, and THE OLE CROWS, Regina McGrory and Eileen Vaughn, East Falmouth, Mass.
The show will also feature a display of antique quilts, with each one telling a story. Kate Farrish, secretary of the Tolland Historical Society and author of the Tolland chapter of the "Connecticut 169 Club" book will be selling and signing copies of the book. It features a chapter on each of our state's 169 towns and cities and costs $24.95, with the proceeds being donated to the Society.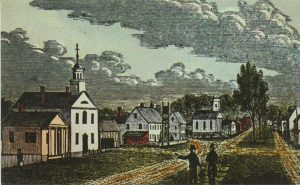 Opportunity for Tolland Businesses to Support the Tolland Historical Society
To support the Tolland Historical Society, local businesses can advertise their products and services in three upcoming ways.
Your ads can run in the Antiques Show Book at the 53rd annual Tolland Antiques Book, in the quarterly Tolland Times and on the website, at tollandhistorical.org.
The book reaches a large audience of visitors and dealers. A full-page, 5 x 8-inch ad in the book is $90; a half-page, 5 x 4-inch ad is $50, and a quarter-page, 5 x 2-inch ad is $35.
For the past 14 years, the Times has circulated to society members and Tolland residents.
The cost for an ad in the newsletter is $30 for the year if purchased alone, or you can purchase an ad in the Antiques Show Book and spend an extra $15, and you can have double coverage.
If you purchase a dual advertising block, you get a free business card-sized ad on the website.
To advertise, contact Show Director Mary-Pat Soucy if you are interested in advertising at mpsoucy@comcast.net or 860-803-0034. The deadline to submit advertising materials is Feb. 28.