Be sure to mark the date of Sunday, March 10, 2019 on your calendar for the Tolland Historical Society's largest annual fundraiser – the 53rd annual Tolland Antiques Show!
The show will be held from 9 a.m. to 3 p.m. at the Tolland Middle School at 1 Falcon Way.
With more than 50 dealers from throughout New England, New York and Pennsylvania, the show is one of the premier events in the Northeast dealing in early Americana. The show will feature 18th- and 19th-century American furniture, accessories, textiles, rugs, prints, folk art, paintings, redware and early iron. Many items are of museum quality.
The show is a benefit for the Tolland Historical Society, with proceeds supporting the Old Tolland County Courthouse, the Old Tolland County Jail and Museum and the Daniel Benton Homestead. Proceeds also support the many programs that the society sponsors in the community and its curriculum-related programs in the Tolland school system.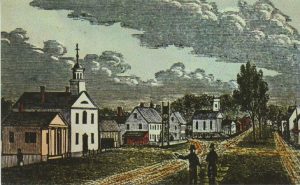 Opportunity for Tolland Businesses to Support the Tolland Historical Society
To support the Tolland Historical Society, local businesses can advertise their products and services in three upcoming ways.
Your ads can run in the Antiques Show Book at the 53rd annual Tolland Antiques Book, in the quarterly Tolland Times and on the website, at tollandhistorical.org.
The book reaches a large audience of visitors and dealers. A full-page, 5 x 8-inch ad in the book is $90; a half-page, 5 x 4-inch ad is $50, and a quarter-page, 5 x 2-inch ad is $35.
For the past 14 years, the Times has circulated to society members and Tolland residents.
The cost for an ad in the newsletter is $30 for the year if purchased alone, or you can purchase an ad in the Antiques Show Book and spend an extra $15, and you can have double coverage.
If you purchase a dual advertising block, you get a free business card-sized ad on the website.
To advertise, contact Show Director Mary-Pat Soucy if you are interested in advertising at mpsoucy@comcast.net or 860-803-0034. The deadline to submit advertising materials is Feb. 28.