About the Daniel Benton Homestead Museum
Open Sundays from 1 p.m. to 4 p.m. from June through late September, except for on national holidays or when the temperature exceeds 90 degrees.
Note: the homestead is closed for the 2019 season. See you in June of 2020, when it will be celebrating its 300th anniversary!
Six generations of the Benton family lived here and farmed the land. Daniel Benton's sons served in the French and Indian War; five of his grandsons answered the Lexington Alarm and fought in the Revolutionary War. Purchased from the family in 1932 by Florrie Bishop Bowering, a radio personality and dietician at the University of Connecticut, it was occupied by her until her death in 1968. The house came into the possession of the Tolland Historical Society through the generosity of the next owners, Charles B. Goodstein and William A Shocket, in 1969, and was opened as a museum the following year.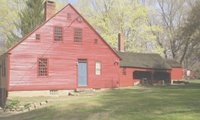 Although minor changes were made to the house over the years, it remains much the same as it was in Daniel Benton's time. A full cape with an ell, it's exterior is repainted in the original colors.
The hall, reflecting the earliest construction, boasts a beautifully paneled fireplace wall, stained and grained to simulate walnut, as is the wide-board feather-edged sheathing on the other three walls. Paneling in the parlor has been repainted in the o
riginal light Prussian blue. Repairs to both chimneys have returned the five fireplaces to useable condition. Work on the center chimney exposed the original walk-in fireplace with rear bake oven in the kitchen, which has been restored. The cellar, which has another largecooking fireplace, was used to house Hessian and English prisoners for eighteen months during the Revolutionary War.
The Daniel Benton Homestead Museum tells the story of 18th century Tolland through the lives of the first three generations of Bentons to live in it.
For more information, call Director Gail Usher at 860-974-1875.